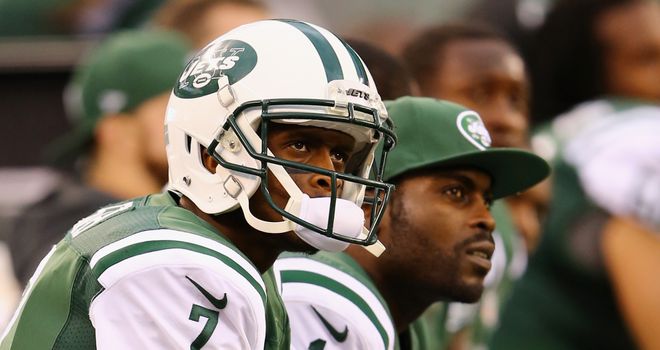 After another nightmarish showing, Jets head coach Rex Ryan stood at the podium and said, "one thing we know - it can't get a whole hell of a lot worse."
Should we really be so sure of that?

It didn't seem like it could get much worse for this Jets team than the 31-0 stinker in San Diego. Then Sunday happened.

Buffalo came into MetLife Stadium and before even a quarter had passed, the Bills were up 3-0 in turnover margin. By the end of the day, that differential ballooned to six.

It didn't matter who was under center for the now 1-7 Jets. Geno Smith was putrid as he opened the floodgates with three interceptions on eight passes. He completed only two of his attempts to players in green and white.

Backup Mike Vick was better, but that's not saying much. He too turned the ball over three times, as he completed 18 of his 36 passes for 153 yards, and picked up 69 yards on the ground.

Ryan said after the game that he had no clue who the starter would be next Sunday in Kansas City. That's because neither of the candidates have done anything to merit the call to action.

Vick admitted he was unprepared when called to duty the last time Smith was pulled due to his struggles against the Chargers. In his second opportunity, Vick didn't exactly light the world on fire.

Smith, in his second year, is not improving. He continues to be a roller coaster, going from serviceable to not salvageable in a week's time. In nearly defeating the New England Patriots on the road in a prime-time game last week, Smith didn't once turn the ball over. The Jets still struggled mightily to hit pay dirt in the red zone but the mistakes were limited and a win was within reach.

Then came Sunday.

It took little more than a half hour in real time for Smith's day to turn into a trainwreck.

"I think the young man's got the ability. I think it's just a matter of time," Ryan said in his postgame comments about Smith.

But how much time will the Jets give Smith, a second-round pick who hasn't found his footing? Volatile play is a theme that has followed Smith back to his college days. After a soaring start to his senior season at West Virginia (5-0 record, 24 TD, 0 INT), Smith regressed some (11 TD, 5 INT) and his team lost five straight.

Those ups and downs have been the standard for Smith in his season and a half in New York, too. In his rookie season, Smith would go from flashing signs of potential one week (i.e. Week 5, a Monday night comeback victory on the road against the Falcons) to a problematic performance the next (a two-interception, struggle of a day in a Week 6 home loss to Pittsburgh).

Smith was benched in the middle of games three times last season - once in October, once in November and once in December.

He's already been pulled twice in the eight games of this one.

Having made 23 NFL starts in his career, Smith has been bad enough to be yanked five times. That's over 20 percent.

Alarming doesn't begin to describe that trend.

Yet, Ryan still believes in the young quarterback. Maybe Smith has the talent but unless he can put it together consistently, he isn't going to make it with this team or in this league. It's becoming more and more obvious with each benching that Smith is not the Jets quarterback of the future.

Ryan may think it's just a matter of time but both his and Smith's are running thin.